Lessons learned from a life in music.
(#9 in a series of posts)
"And So We Sing"
(Shawnee Press 35027907)
A song idea can come from just about anywhere. Whether it's the latest catch phrase sweeping the nation, or a colorful quip from your eccentric aunt Doris, a great hook may land in your lap when you least expect it. But you have to be listening.
LESSON #1:
Smart songwriters are good listeners.
They pay attention to what others are saying.
Not surprisingly, Christian songwriters find a lot of song ideas in words spoken from the pulpit on Sunday morning. A certain Baptist preacher in Nashville once told me he knew he must've said something significant when more than a few writers sitting in the pews dove for their pencils simultaneously. In 2009, I heard such a turn of words spoken in a congregational prayer. I confess that while every other head was bowed with eyes closed, I was scribbling on the church bulletin.
That morning at First Baptist Nashville, Dr. Terry York, a professor from Baylor University, was a visitor in the pulpit. The opening sentence of Terry's prayer struck me as germ of a song. I knew from experience that if I wanted to remember the idea after the worship service was over I had to write it down that very minute.
LESSON #2:
Be ready to write. Inspiration sometimes comes at inconvenient times.
A great idea that is not somehow captured is almost certainly an idea lost.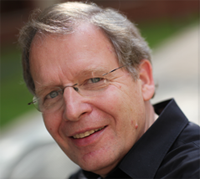 Terry is a thoughtful and eloquent guy with a unique perspective: A former U. S. Marine and Doctor of Musical Arts are not an everyday combination. The soldier-turned-teacher prayed deliberately that morning.
"We try, Lord," he began.
He paused to let that sink in. He continued, in specific language I can no longer recall, to iterate that no matter how hard we strive, God's grace and mercy are not things we can ever earn – but gifts we need only to accept.
But it was that first sentence that made me reach for the stubby, eraser-less pencil in the rack next to the visitor's cards and the offering envelopes. I grabbed up my order of service and scribbled down a handful of words in the margin: "And so we try. With all we have to give, we try/To love how Jesus lived and died."
I'm not sure how much of the song lyric I wrote while sitting there in church. My memory is fuzzy about that. But if I was true to form, I probably had it all but finished before the invitation hymn. (I really wish I had hung on to that church bulletin.)
LESSON #3:
Hang on to your notes and drafts.
Not so much for posterity, but as a teaching reminder as to how your own creative process works, and – hopefully – as evidence of your growth as a writer.
Later at home, I finished the lyric. The result was an AABA form that flowed as one continual thought. (See below.) The title, "And So We Sing," came from the final A-section. Once done with the lyric, I asked Regi Stone to take a stab at setting the words to music.
I will go on the record here saying Regi Stone is so talented it is really quite unfair to the rest of us. He is an incredible singer. He has genuine classical piano chops. He reads music like a machine. And he writes great melodies. The only plausible explanation is that he must somehow be cheating. I figure it's hard to compete with a guy like that, so better to just collaborate with him instead.
"And So We Sing" was the second or third song Regi and I wrote together. There was very little rewriting to be done after he composed the music. Perhaps I had so thoroughly vetted the words before he ever saw them that they didn't require much tweaking. And maybe Regi happened to get the tune right the first time. It happens. Whatever the reason, the song didn't require any significant changes once Regi got his hands on it. So – this next Life Lesson is gonna shock those who know me well as an ardent rewriter…
LESSON #4:
As absolutely crucial as rewriting is to the professional craft of writing,
sometimes you get things right early on.
The trick is recognizing those moments
and trusting your collaborator's gifts and talents.
Regi's demo of the song was done in a single take at the piano, singing as he played. I later arranged the piece for SATB voices, lifting ideas for the accompaniment from Regi's inspired (and totally improvised) piano demo. Shawnee Press released the choral anthem in 2012. More recently, Luke Garrett chose "And So We Sing" to be included in his upcoming CD release. Regi accompanied Luke in the studio and (no surprise) the result from these two marvelous musicians was terrific.
I love Regi's melody. And I love the message of the lyric. I have every hope the song will last for years.
And none of it would have happened if I had not been listening when Terry York began to pray: "Lord, we try."
And so we try
With all we have to give. We try
To love how Jesus lived and died.
And though our best is not enough,
He showed us what it means to love.
And so we try.
And so we weep,
So vast our sinful stain. We weep
For causing Him such pain and grief.
For who but we supplied the cross
That Jesus bore at such a cost?
And so we weep.
But all our striving cannot earn,
And all our tears can never buy
The mercy such a love does offer,
The grace that such a love supplies.
And so we sing
The music mercy scored. We sing
All praise to Christ, our Lord and King.
For words alone cannot express
His matchless love and faithfulness.
And so we sing!
Words by Robert Sterling
Music by Regi Stone
© Robert Matthew Sterling Music & Experience Worship Music