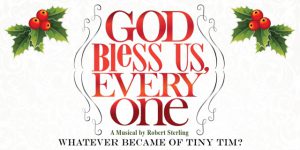 I cannot begin to say how excited I am to announce the release of the new dramatic Christmas musical, God Bless Us Every One. I spent the better part of the last two years completing this project.  The process was a true labor of love. And there were more than a few times I wondered if this day was ever going to get here.
Ever since the fantastic premier performances in suburban Detroit last Christmas at Brightmoor Christian Church, I have been working to complete the re-writes, edit the Performance Trax, clean up all the orchestrations and such. Meanwhile, David Basel, the intrepid producer of the premier, has been toiling overtime with his crew to produce the detail-laden Production Manual that will be an enormous help to all those who tackle the production.
In brief, God Bless Us Every One takes up some twenty years after A Christmas Carol,  and tells the story of the now grown-up Tiny Tim. Click Here to see a brief promotional video and learn all about the show over in the Musicals section of this site.
My thanks to everybody who played a role in this work coming to life. I feel like I ought to be passing out cigars!